Coffee And Gossip
By Marsha & Molly



For now we are updating about the 2nd to 5th of each month



Sabyl rescued Eggsy. No one would take Eggsy since he is old and blind BUT Sabyl loves him. We all love Eggsy! Here is Eggsy in his winter helmet. He is the most loving dog!
Taylor with Minow, blind horse.

Taylor, our new FEANTM editor on simualtion software/engineering in horse physics and care.
pdf 1 page boop instructions but DO not try this at home – you need to be a highly skilled Squirrel Nose Booper!

RUN SQUIRRELS! Skylar the Hawk is flying! Still not sure how he flies straight down and doesn't crash!
Shane and his herd of squirrels. Keep in mind Shane is 31 and if he thinks he is the lead horse of a squirrel herd we don't want to upset him. At 31 he can think whatever he wants
I am trying to teach the cattle across the road to open the mailbox and bring the mail to me. So far I haven't spoken their Moo language correctly because they just look at me like I'm crazy!
I tried to make Dusty look like a Unicorn by braiding his hair - The horn kept falling down! Yes, that is retirement boredom! It is 100 degrees Farenheit, to hot to do any chores.
Time for Kensington to start grooming Dusty. Why is Nicole using Dusty as a hand rest? I guess Dusty is the perfect height for resting your hand on his back. Actually, he only stands still and listens to Kensington. She sings to him - it must be the singing!



A good samaritan, Tina, stopped and helped a calf get back in my neighbors pasture.





She then actually pulled up the barbed wire gate post and re-hooked the rope over it. I think my neighbor needs to upgrade his gate!



One of my favorite sunsets
from 2020 - OH my how did 3 years already pass by!





Quincy just ate his entire lunch and then he looks at you like HEY, you forgot to feed me!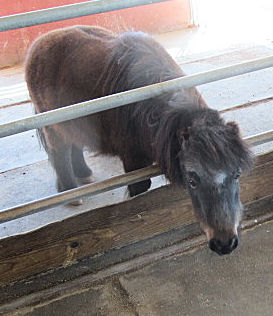 And we are back feeding our squirrels! Thank you all while we handled a medical emergency for the past 3 months.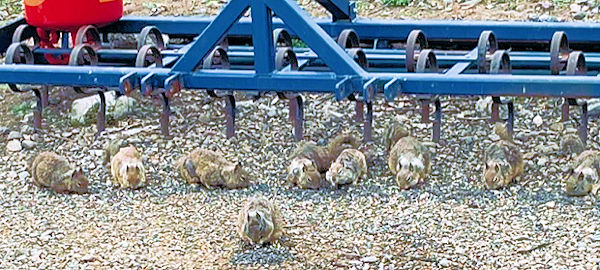 02/13 Our miniature horse, Dusty, is home from Davis Horse Hospital after his emergency and 10 day stay - they did get his protein level up with Plasma Transfusion, shaved him both sides for MRI's and other tests - we now have him back home on "maintenance" therapy. Anyway, he is home for as long as he eats, and maintains so for now great news.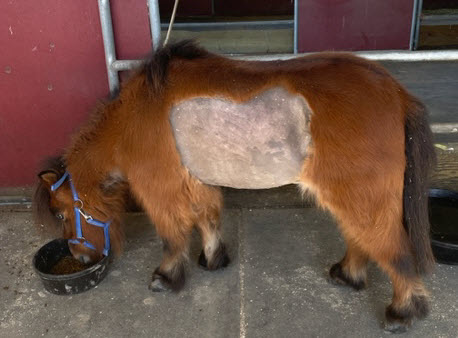 01/23 - The official morning fly in for breakfast!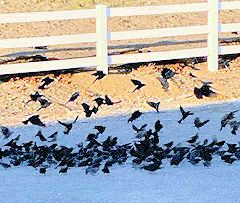 01/09 - I love my squirrels! AND they love their sunflower seed and corn kernals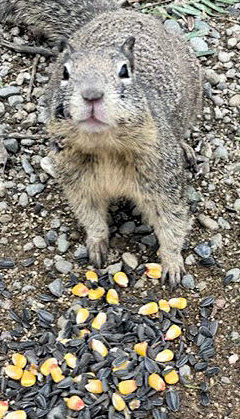 Older favorites:
You know your miniature horse loves his farrier when the farrier, Clancey, can sit on the ground and file Dusty's hooves without anyone holding Dusty. Of course he also gives Dusty hugs so that helps.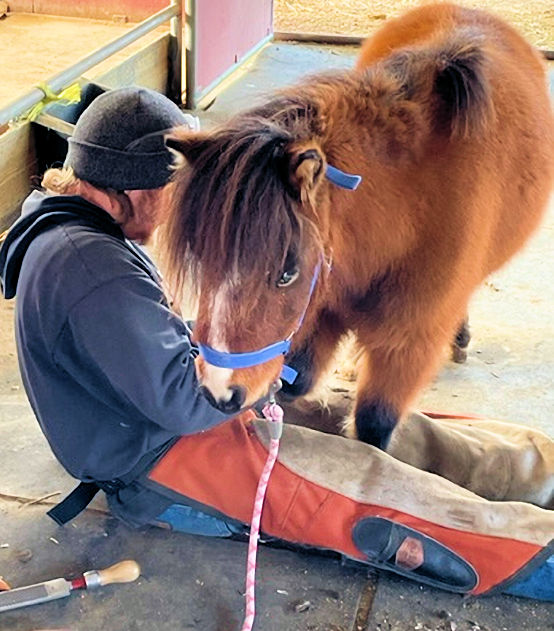 I am pleased to announce that FINALLY one of the seeds I planted in a flower pot grew. I will call it a squirrel flower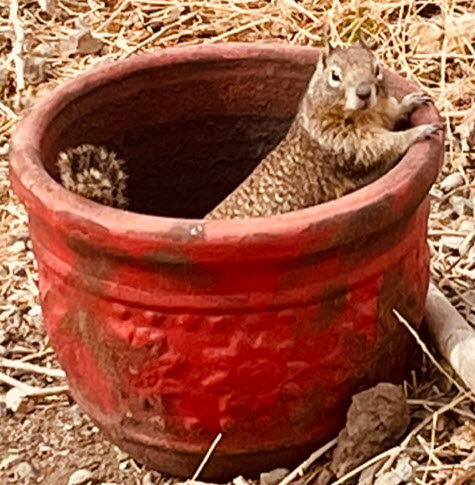 I was having coffee inside my fenced yard, and lounging on a recliner when I looked up and there is Kyle looking at me through the fence as if I'm suppose to open the gate and let him come in!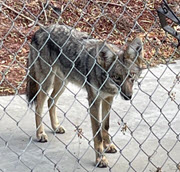 Kyle decided better to stay in a horse paddock when the neighbors are out shooting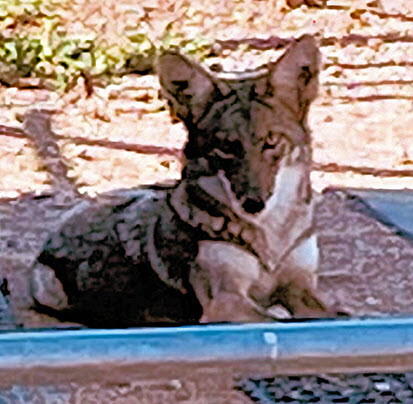 WAIT - who do these little pups belong to? WHY are they here? Do I look like I feed every animal that visits? Uh, well I guess if they show up at food time they get fed.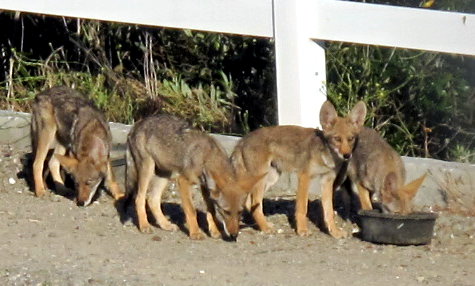 I was going to cut down on feeding but how does one ignore this pitiful face that the bowl is empty?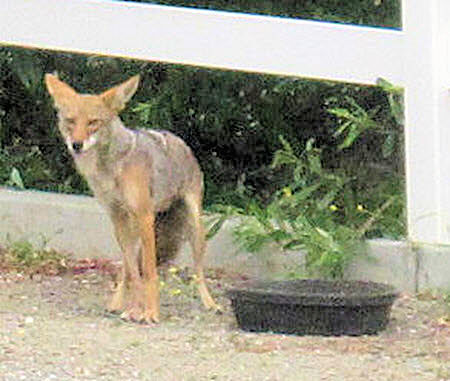 Must not have been road kill on our road. I had 5 vultures at the feeder. THEN, the sun came out nice and warm and this one decided that after he ate he'd warm up for about a half hour!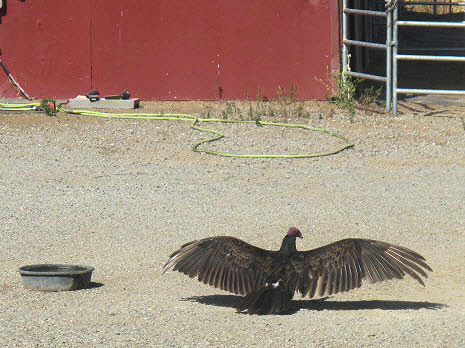 I thought Dinky suffocated - I ran up to him to save him. He gave me a look, "Hi Gramma, I was having breakfast." He didn't even take his little paw out of the bag! Then he just went back into the bag to eat. I am supposed to be alpha! My animals just ignore that fact.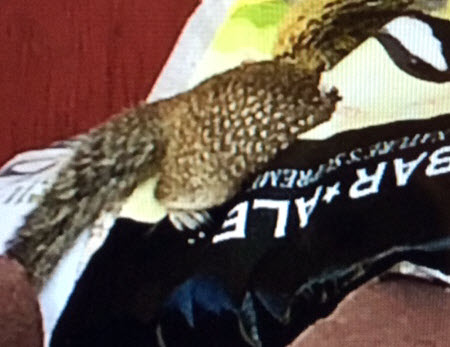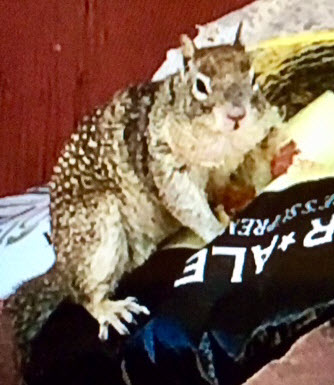 I heard Don yell to me from the kitchen, "Why do you have a Turkey on your car roof?" I wanted to answer, "Honda gives you a free pet turkey with every Pilot, and he was just delivered!" HOW AM I SUPPOSED TO KNOW WHY THERE IS A TURKEY ON THE ROOF! (Sorry for yelling using an upper case)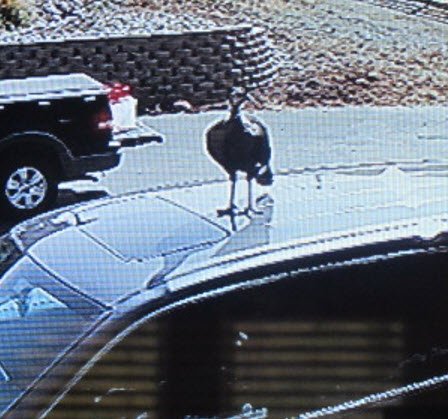 Night vision camera - Yes, that is our owl that now sits on the roof - it was totally dark when I took the picture and I'm not used to my new night vision camera to get clear pictures, BUT it is the owl.